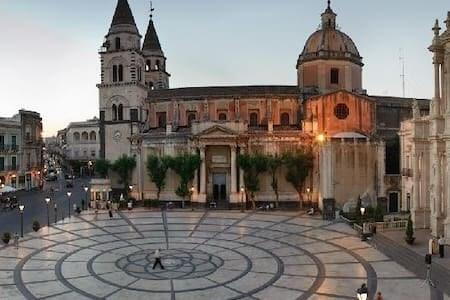 Shore excursions
Acireale and Cyclops Riviera
Code:

tour 190

Meeting time:

from 08:00 to 09:30

Duration:

9 hours
What is included & Schedule details

Tour Type:

private driver port excursion day trip from the port of Messina and Catania

People Target:

This tour is ideal for everyone families , individuals. Good walking shoes

Highlights:

Catania Acireale and Cyclops Riviera

Included:

Taxes and Tolls Fully Qualified English speaking Driver Full insurance on all our cars

Services:

Meet and Greet Service driver will meet at the port ( where the ship is docked holding a name sign ) Transportation in a comfortable Mercedes car or Limovan equipped with double air-conditioning , qualified
About sites you will visit
Acireale and Riviera of Cyclops and Catania from the port of Messina Enjoy a day discovery the beautiful Sicilian coast Meet at the Port of Catania or Messina and have one of Italy limousine driver meet at the gangway holding your name sign to enjoy a day on the Sicilian coast line. First, stop the old town of Acireale an ancient Greek town. Highlights during your visit free time to walk around the town where one can visit the Basilica of the saints of Peter and Paul Baroque period. Entering the Basilica, you can discover the many forms of art works that are hosted in the Basilica. In addition, the Main Cathedral where you can find works of the Painter Pietro P Vasta.Then onto the Town of Catania well known for its Volcano Etna and the City dates back as far as the Greek and Roman period. Highlights that one can visit while in Catania is the Roman Amphitheatre and thermal baths and the Roman Aqueduct. With your private driver, follow to the Cyclops Riviera a beautifully Mystical coastline, which include stops at the village of Castele di Aci and Acicatena. Enjoy a day's excursion with your family or group together with our private exclusive customized day experience only with a company like Italy limousine one can enjoy together with your driver a private personalized port shore tour for 2020
Important even arriving at the port of Catania we will adapt by doing first catania city then exploring the rest of the area.
+ Read all +
Travel Safely, We care for You!
Covid19 travel in safety with Italy Limousine tours and transfer experiences.
Regular Car Sanitisation
 Our drivers thoroughly sanitise and disinfect cars according to the actual Safety Hygiene rules
Contactless ride
When you book, you can request to have zero contact with the driver with just one click. In this case, the driver won't help you with your luggage or shake hands.
Jeffrey and Gloria Holtman
Reviewed on
Josephine, ItalyLimousine has certainly made our already wonderful trip to Italy, hassle free and convenient. My wife and I generally rent a car wherever we go, but your impeccable service will make us reconsider in the future especially while in Italy. Thanks again for your care and attention. I look forward to dealing with you in the future. Jeff
Raliegh
from Orlando Reviewed on
Josephine, good morning Naples driver was awesome, he done such a great job getting us from place to place giving us history on the area and was so kind and a very safe driver, my family enjoyed Rome, what can I say the driver was phenomenal he was so kind, took pictures of our family together told us lots of history he made sure we got to see everything important, helped us get a local...